Fiduciary Briefcase™
The Fiduciary Briefcase™ is a proprietary online portal designed to be your private filing system in the virtual world. Housing meeting summaries, compliance documents, newsletters and so much more―the Fiduciary Briefcase™ affords your Committee 24/7 access to pertinent plan information, and readily prepares your plan for audit.
Online Protection. For Added Peace of Mind.
Your RPAG Advisor recognizes that proper documentation is an important step in the fiduciary process. At the onset of each client relationship, we will create a username and password for you to access your own Fiduciary Briefcase via our website. Serving as your personalized depository for plan documents and reports, your RPAG Advisor will post all deliverables to the site for secure, anytime-access.
Resources stored to the site on your behalf include: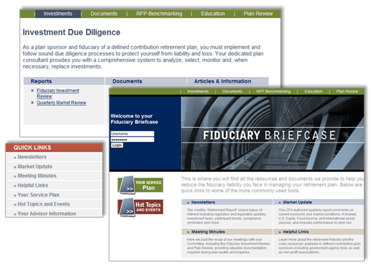 Customized Service Plan
Meeting Minutes
Committee Charter
Disclosure Documents
Investment Policies
Plan Documents
Monthly Employer Newsletters
Quarterly Market Summaries
Sample Employee Memos
Participant Education Materials
Archived Reports

Fiduciary Investment Reviews
Fiduciary Plan Reviews
Provider Analysis & Benchmarking Reports